Achieve a natural face lift without the surgery in just a few days! Tighten sagging facial features, rejuvenate your skin tone and gently tone your face in just 60 seconds!
Special Price
$195.00
Regular Price
$388.00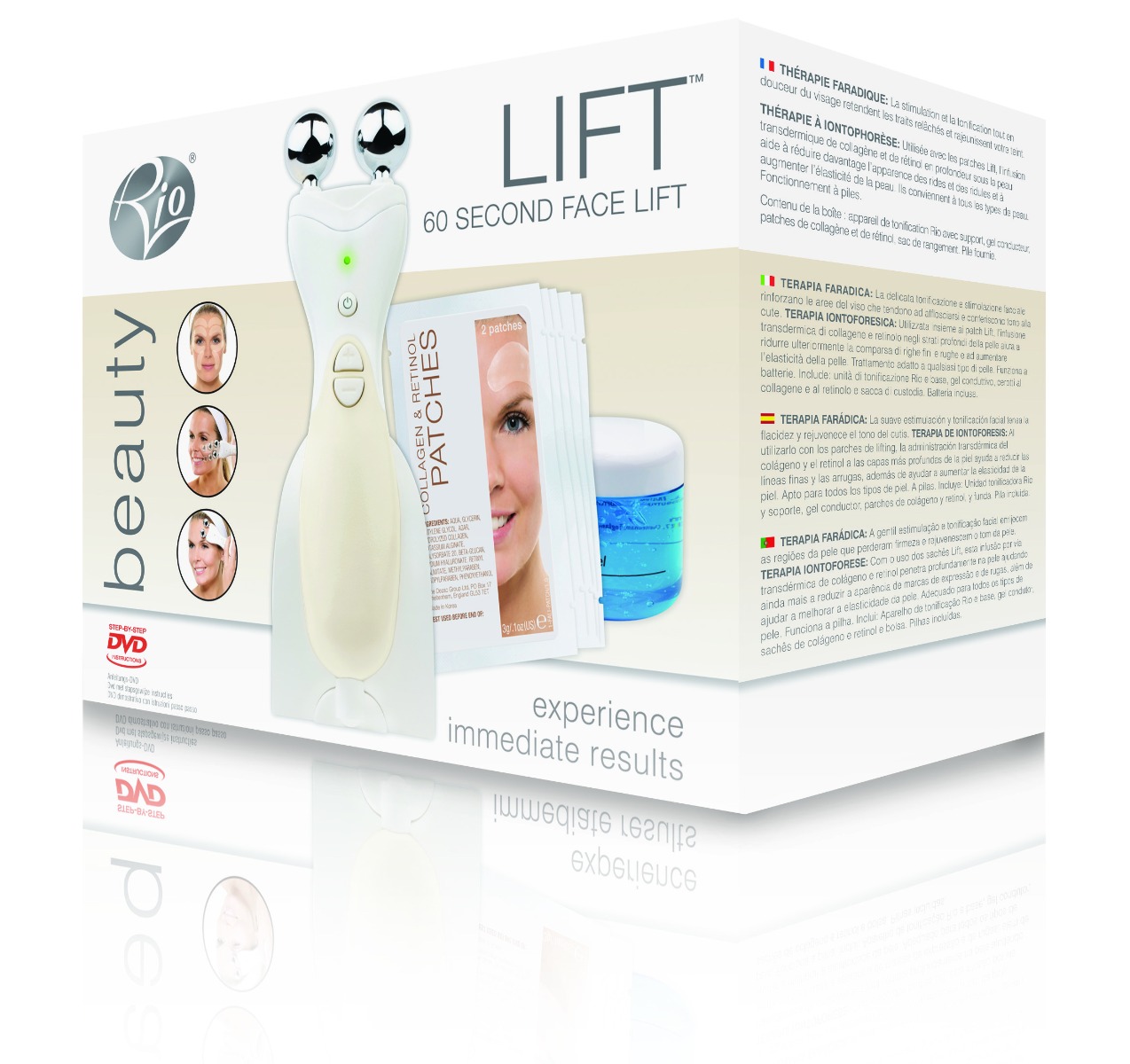 Achieve a natural face lift without the surgery, in just 60 Second Treatments with Lift. Lift features 2 treatment methods to tone facial muscles, lift and rejuvenate skin tone – Faradic Facial Toning and Iontophoresis Infusion.
Features:
Faradic therapy
Iontophoresis therapy
Reduces fine lines and wrinkles
Accelerate lymphatic drainage
Collagen infusion
Practiced for over 40 years in beauty salons, faradic facial toning uses EMS (Electrical Muscle Stimulation) to gently contract and relax facial muscles to help tone, lift and tighten. This stimulation also increases local circulation, bringing more oxygen to the skin cells and removing toxins more rapidly, to leave the skin feeling refreshed and rejuvenated.
Iontophoresis Infusion uses small microcurrents to carry the active ingredients for skin repair and rejuvenation deep into the skin. This transdermal infusion greatly increases the effectiveness of topically applied treatments which would otherwise find it difficult to penetrate the skin. Lift gel patches contain positively charged collagen and retinol as anti-wrinkle and anti-aging agents. When placing the positive contact on the patch and the negative contact on the skin, these active ingredients are directly 'pulled' into the skin.
How to Use – Faradic Facial Toning:
Faradic Facial Toning Treatment Zones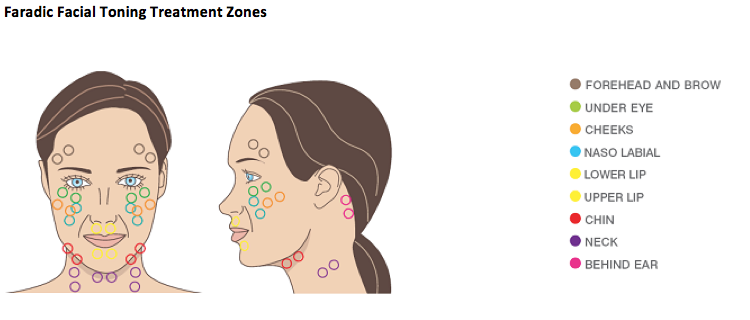 Step 1: Apply a generous amount of conductive gel to each of the ball contacts, turn the unit on then position both ball contacts on the area to be treated. Hold the unit in position for 60 seconds to complete treatment of the area. After 60 seconds move onto the next treatment area.
Step 2: During treatment you can increase the power and move the position of the ball contacts if necessary until you feel definite muscles contractions. You may need to adjust the intensity level when treating different areas of the face.
Faradic Facial Toning Programmes
Programme 1: Firming Rhythmic muscle contractions to condition muscles with a short interval between each pulse. Muscle contractions last 2 seconds followed by a 3 second pause. There are 17 power levels in total.  We recommend starting on a low power level on each treatment area and build up until muscle contractions are felt.
Programme 2: Tap Toning Rapid stimulating action. The pulsing massage action lasts 5 seconds followed by a 3 second pause.
For best results follow the faradic facial toning regime every day for the first few weeks, alternating between programmes 1 and 2 each day.